Thumbtastic 🖼️
Thumbtastic is a free image viewing app to view art reference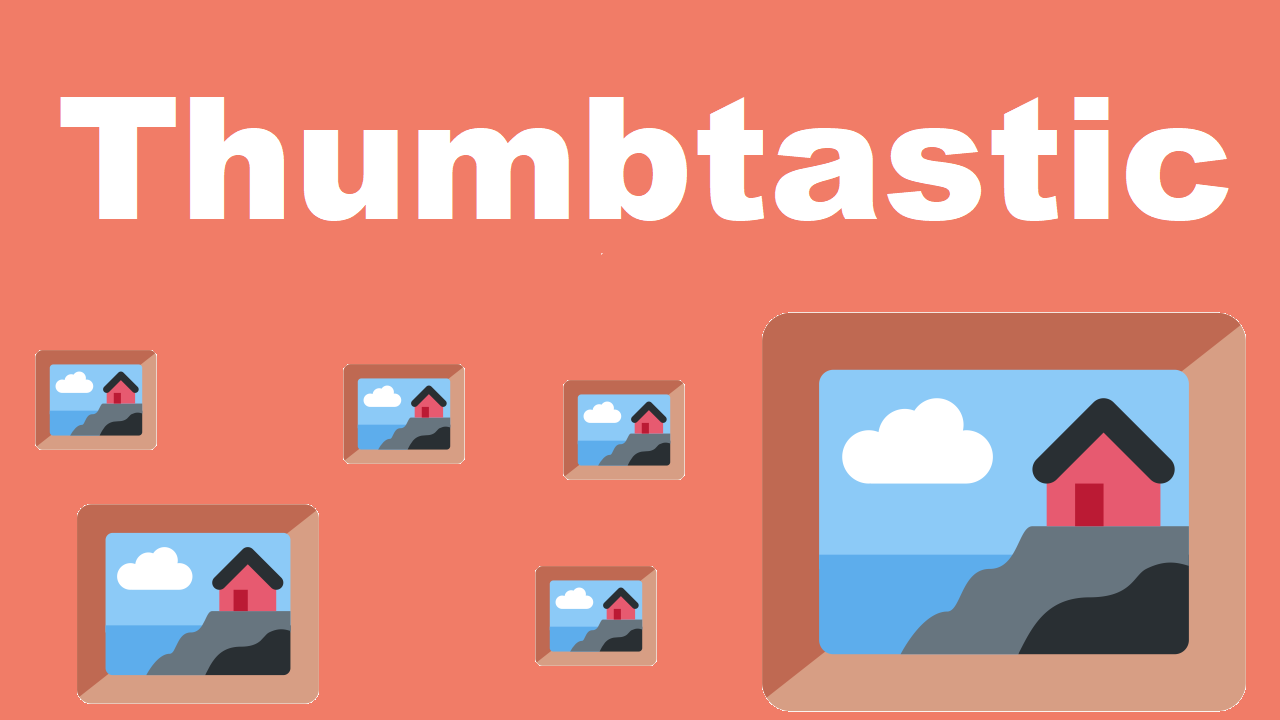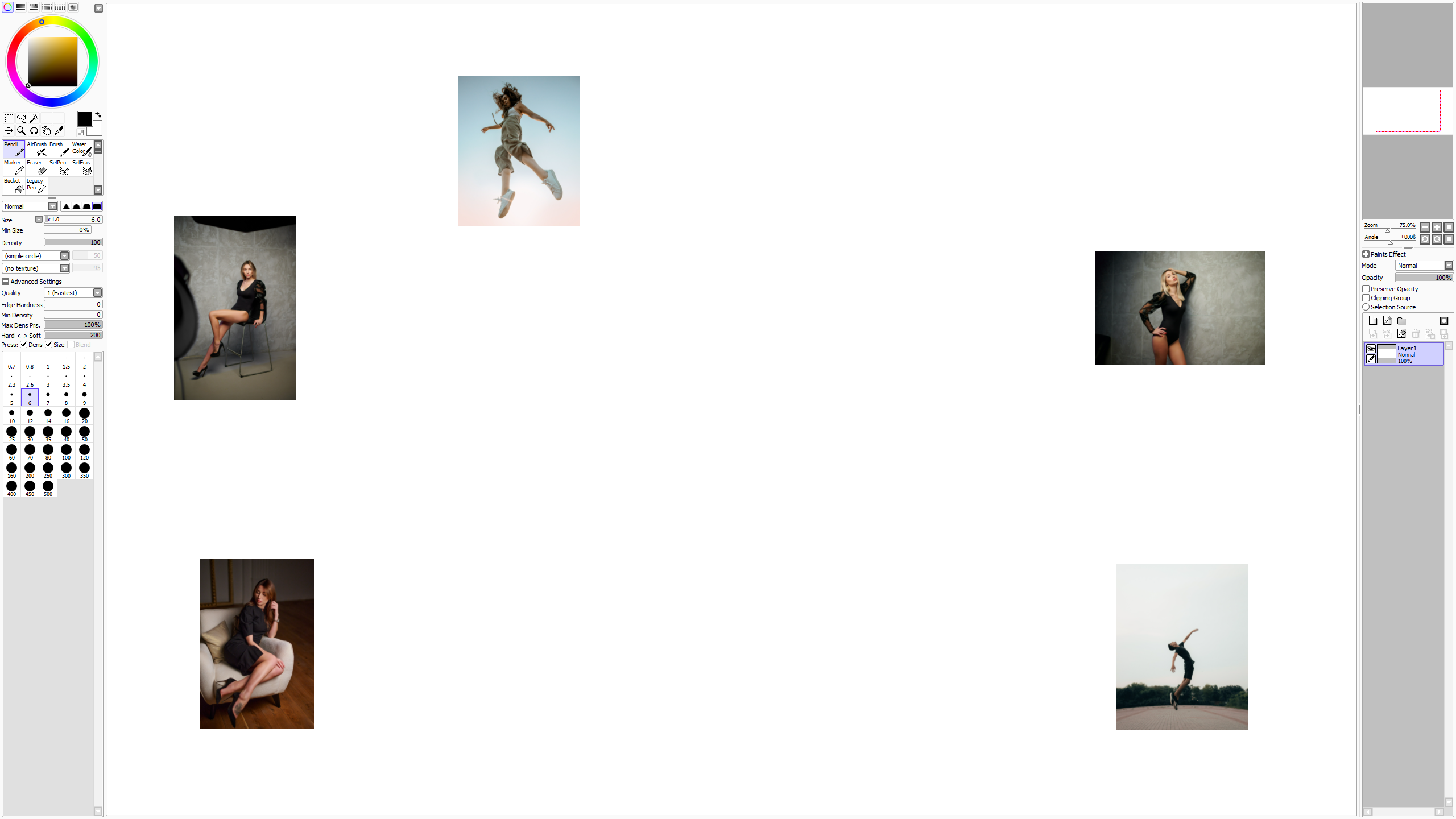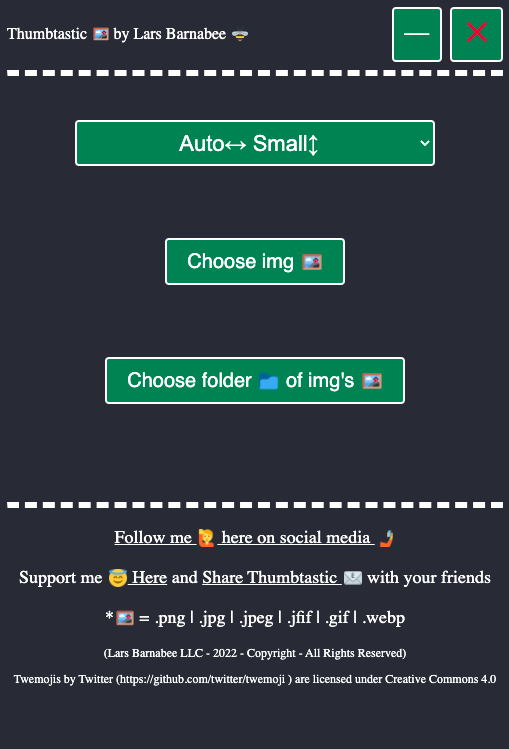 Just select an image 🖼️ or a folder 📁 of images 🖼️ from your computer and you can view all of your reference with ease. Thumbtastic 🖼️ works with the following image file types: .png, .jpg, .jpeg, .jfif, .webp, or .gif using file types other than the one's listed will not show. This application does not connect to the internet in any way, so you can practice without Wi-Fi or internet.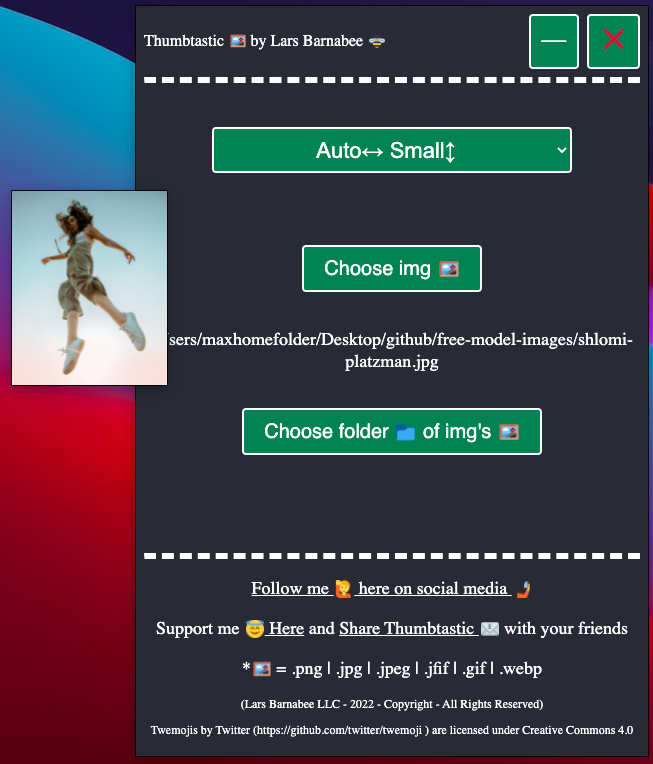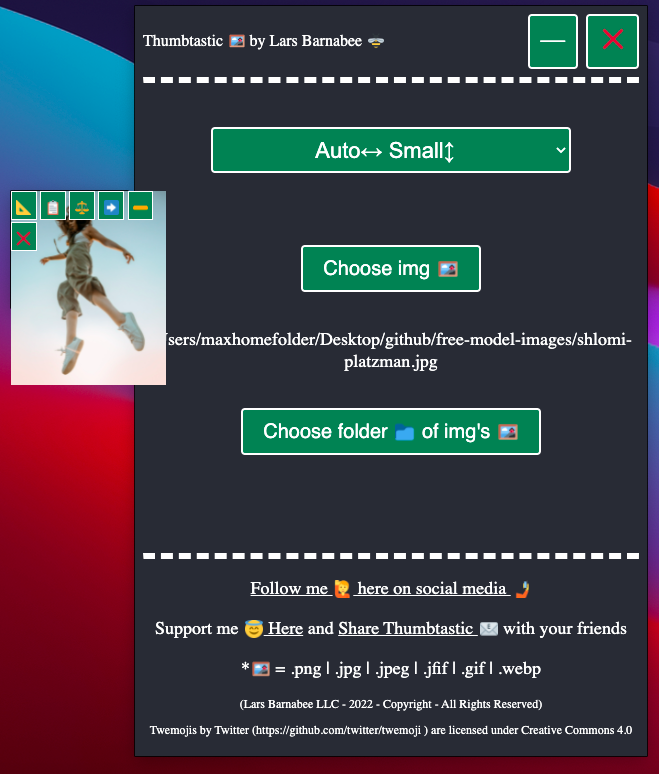 Thumbtastic does not automatically update, so check here for future updates, when I release bug 🐛 fixes. Please only trust this site for downloading my app. Do not trust downloads of this app from other websites that are not "larsbarnabee.com" aka "https://larsbarnabee.com". Do not trust other people distributing this application. This application changes the text based on users native spoken language based on your operating systems locale. For example- If your computer has a locale of english, it would be something like "en", if your computers locale was japanese, it would be "ja". This functionality was a bit difficult to make, but I did this to help spread the love of drawing all around the world. I wonder if extra-terrestrials speak any of these languages....
---
I made Thumbtastic because I was inspired by my mom. She is an artist, and she would cut out smaller images of stuff she was going to draw then clip it to her drawing board. She used images as reference, thus inspiring this app. I would always find small cut out images around the house. I should note, in my drawesome desktop app, I originally added that feature to drawesome. I realized that making an app to use as reference, rather than a small temporary slideshow window would be more helpful for drawing. It is funny how some of my work is a derivative of other features I made.
---
The Thumbtastic 🖼️ App was translated using Google Translate for the following languages: Japan 🇯🇵 Mandarin 🇨🇳 Russian 🇷🇺 Portuguese 🇵🇹 Korean 🇰🇷 Italian 🇮🇹 Indonesian 🇮🇩 Hindi 🇮🇳 Hebrew 🇮🇱 French 🇫🇷 Spanish 🇲🇽 🇪🇸 German 🇩🇪 Bengali 🇧🇩 Arabic 🇦🇪 Translators cost and deserve money. I am a bit short on it at the moment. If you want to help out, please contact me here
---
Downloaded Thumbtastic 🎞️ but need reference images? Get a pack of model pose images here. Note: purchasing through these links supports this website and Thumbtastic 🖼️ development.
License: You are free to use "Thumbtastic", but you may not distribute the application, installers, executables, etc. You may not claim that you created "Thumbtastic". Thumbtastic is and always will be a free application, therefore you may not sell Thumbtastic to any person, entity, etc. I would like to thank my supporters 😇 here I also want to thank "Twemojis" by Twitter.com (https://github.com/twitter/twemoji) because I use them in my Thumbtastic 🖼️ application and Icons by icons8.com (https://icons8.com) Lars Barnabee LLC — 2022 — Copyright — All Rights Reserved
Thumbtastic does not collect user data. I did not Code Sign Thumbtastic️ 🖼️ Therefore your computer may warn you that this software did not come from an verified publisher. Please only trust downloads of this application from this website "larsbarnabee.com" and no other websites. Do not trust other websites redistributing my application. When I say redistributing, I mean sending you the installers known as "setup.exe", "setup.dmg", or "setup.deb". Please feel free to tell others about my application and or share a link to this page.